Davinder Bedi aka The Desired Effect
Name:
Davinder Bedi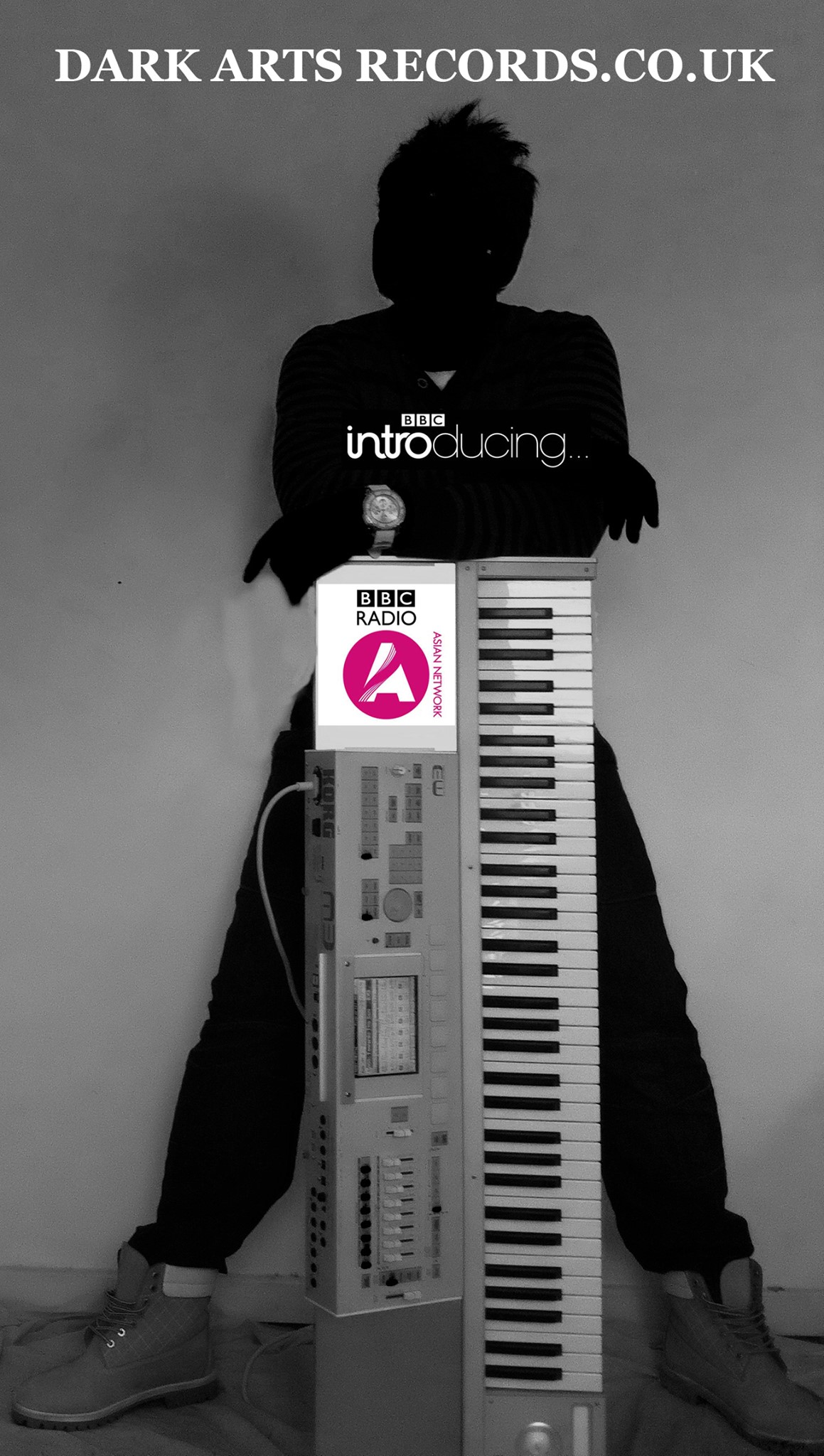 Claim to Fame:
I am a BBC Introducing Artist on Bobby Friction's
show
and presented the Old School Bhangra show on Luv Asia Radio. Before landing the job at Luv Asia Radio, Missy D and Natasha Khan featured my Panjabi Christmas song on their
show
.
Artist Name: Desired Effect (name comes from engineering everyones projects when 19 years old and giving each audio element (drums, vocals, guitar etc) the desired effect. Age: 35 years old Location: East London
What he does- writes songs, tries to sing, produces, engineers, mixes and masters his own music. Plays keys very rudimentarily and bass guitar too. Music Available on iTunes- Desired Effect
Our bit -- A multi-talented hard working studio slave that makes the impossible possible. Rumoured to be so fussy about the quality of music that some say he has an Obsessive Compulsive Disorder. Rumoured to have driven musicians close to the boundaries of sanity with his fussiness. Rumoured to be the brains and driving force behind the whole Dark Arts Records operation. His bit -- I don't really know where these baseless rumours come from. However, I can tell you one thing for free, I am the record label and studio slave that has to deal with everyone's projects most nights of the week until the early hours of the morning. The job is really tiring but has to be done. I certainly do have the guts to put my money where my mouth is. Those of you who know me will know this. After spending more than a decade learning about music production, sound engineering, studio construction and mixing I decided to stop running around like a headless chicken helping people out with their project studios and decided to channel my skills towards an ultimate goal. I admit, I am a recluse nowadays, however, why would I want to leave my love which is music and studio work. After spending four years learning how to sing (eastern and western) I decided to actually get down to making music. After all, many people spend most of their lives preparing to live, however, one thing that they forget is that the clock is always ticking. The only thing more contagious than enthusiasm is a lack of enthusiasm.
So what made you get into music?
Generally listening to music from an analytical point of view in my late teens. I was always so intrigued as to how the vocals sounded so big and full of life. Music like the work of Herbie Hancock and the Headhunters, Jimi Hendrix, Pentagram, Rick James, Bootsy Collins, Eurythmics & The Shamen. Also your classic asian music like Nusrat live in Paris, Gurdas Mann, Kuldip Manak, Bob Kooner, DCS, Premi, Bali & Binas Cha Party, ghazals, Ustad Hamid Ali Khan etc. At the time I was studying law at uni and managed to get my foot in the door at a local barristers chambers. Compared to music, law was just plain droll and boring and constrained my mind to think within fixed rules and regulations whereas music is a huge endless blank canvas. I heard mixes on the radio and used to find myself analyzing the production and engineering. Didn't want to be an old dude in a pin stripe suit with a mansion, flash car and a wig. A lot of my friends getting into the legal profession at the time were having the life sucked out of them, one even lost his hair through stress. If all else fails in my life I'll end up as a barrister.
Your inspirations?
Classic tracks for their production and engineering. The biggest inspiration of all is Life itself. Whirlpool was written about the way I felt about a certain woman in my life at the time.
Does anyone help you in your music?
My panjabi isn't that great so mom helps me out in when I go to Wolverhampton, my songwriter helps me big time with drafting new songs on the indian side of things. My sister always dissects all of my songs critically. Friends and partners help me by saying ʻerr that don't sound good Dav' (midlands accent). Robert Leroy Harrison an amazing guitarist and friend helps me on guitars and taught me about song structure etc. Just him playing in the corner of the room inspires a fresh track. Juj Singh helps with percussion on the tabla. Ultimately, I'm the driving force behind everyone and this is taxing physically, financially and mentally at times. My old friend DJ Bally K who was a presenter at Ambur Radio helped a lot by teaching me the music business side of things and by saying ʻdude thats a hit if you change this and that'. He also gives me airplay and interviews etc. Better to make the mistakes in the classroom rather than on stage. I help everyone with their own musical projects.
So how did you learn your art?
Regarding the studio recording and production side of things, I'm totally self taught, no college, no university etc. The amount of research I've done over the decade I still believe it goes beyond what a degree syllabus can teach. Maybe later in life I'll get formal qualifications in Music Production and Sound Engineering. Much later in life, when I have time to kill. I literally quit college this week as I was losing production time for my own projects, I wasn't learning anything as everything the lecturers were talking about I was doing in the real world. I was so mentally drained, that I found myself siting blankly in front of the keyboard and not being inspired to produce a thing. In this industry you can have ten letters after your name and still not have a killer track. I'm not knocking musical education, but making music and learning on the job is paramount to me. Anything that slows me down in getting a track out to radio is a hurdle. There's nothing better than setting your eyes on some piece studio gear, getting hold of the manual and learning to operate it whilst saving up to buy it. That way, as soon as the delivery comes, you hit the ground running and its already implemented into the studio. I tried this whole music at college thing a decade back. I always had the latest gear and software as soon as it launched, which was way before the college budget allowed them to upgrade to the version I had at home. Therefore, I ended up teaching the music technology classes on a Wednesday night, whilst the lecturer just relaxed and had coffee whilst learning from a young ʻwhipper-snapperʻ as I was already fluent in the latest software/hardware.
Regarding, radio presenting, I was taught by one of the best around, Missy D at Luv Asia Radio. Yeah, she was strict and I made a few mistakes but she had a big heart.
How was Dark Arts Records formed?
Davinder Bedi aka Desired Effect Biography
With a heck of a lot of determination, a slow unstable PC, a wicked sound-card, a nice fat valve mic, headphones and a duvet to dampen the acoustics of the room for recording. Seriously, every place I have ever lived in has been gutted out to be some sort of residential or commercial recording studio to practice engineering and recording techniques. Over a decade, I have taught myself all the principles of engineering, multitrack recording and music production. In this time I also build up my studio gear. In this industry it takes 10 years of solid work to be an overnight success in the public eye. I want my label to have an alternative twist on Panjabi music alongside the traditional Bhangra ingredients for tracks. The key advantage of running my own label is having total creative freedom. I can make my own style of music at my own pace without tight deadlines imposed by management. This gives me time to experiment with ʻdifferent ingredients in the mix'. Its amazing to have the ability to take an idea from your mind and let it reach the ears of listeners without it being diluted or altered by anyone else. To me, thats all the real world power I need. A sad reality in this industry is that there are record labels out there that scout new up and coming talent, sign them, and them let them sit on the shelf gathering dust whilst they push their main breadwinners. A clever technique to eliminate the potential competition in the industry.
What motivates you?
Having my own style of production and engineering. Looking at each projects as a work in itself in other words creating a fresh production for each track without using templates like many other do in the industry where the tracks just sound too similar on albums. Every time I acquire a new piece of studio gear I visit the old productions and try and implement it in to the mix somehow. Having the freedom to be the master of my own sound is amazing. What I really love is the fact that I'm not really a major name in music and still establishing myself, which to me means that I can introduce myself with whatever style of music I want. I not like I'm going to lose established listenership by attempting something wild and out of the ordinary. Being Bobby Friction's Introducing Artist on BBC Asian Network really has helped put me on the musical map as a powerful independent artist, producer and engineer as he loved my track Panjab Diya Kuriya. What I find really cool is that the people which said ʻYou need a proper job!' are coming up to me nowadays and suddenly having an interest in music and the creative arts. Even worse, there are people which are suddenly inviting me out for a drink and texting/calling me on a daily basis who thought they were too important to talk years back. Its not all positive, I get the odd stalker here and there too Lol. One Foot Fetish Singh and the ʻHeavy Breather from Hell' who flares up whenever I'm on the radio or singing live somewhere. The toughest one is the ex who never believed in you, but suddenly has always loved you and has already named the children to be. I haven't even hit it big yet.
Where do you see yourself in next 5 years?
I want my name behind some major hit tracks in the capacity of producer and/or engineer. Even mainstream projects too. Most importantly, I want to be a dad and teach my son/daughter music production, performance and sound engineering. I want my voice to be much better too and to be able to play piano and guitar fluently.
Any interesting projects in the pipeline?
I have a few cool projects up my sleeve. I also have a few traditional style projects lined up too as I really need to cater for those listeners too.
Davinder Bedi aka Desired Effect Biography
I'm going to put my own production twist on them though. We can all take the easy path and follow the Bhangra music magic formula which uses a shed load of samples and reggae chords however, I consider myself someone who breaks the mould and traditional musical templates of Desi music. Think about it logically, some producers are of the mindset- ʻWhy push the barriers of music production when we already have the magic formula which generates cash?'. I'd rather be remembered as being a pioneer of my own style. Keep a sharp eye on my website www.DarkArtsRecords.co.uk for new musical developments.
What do you love the most about your studio?
I love being able to work from home rather than a commercial facility where you have to worry about security and drive there humming an idea trying not to forget it whilst your head is being polluted by other sounds at the traffic lights. When my mind is really focused on music production I literally dream music, wake up, fire up the keyboard and record. Over the next few days I should be back to that state of sonic obsession. I love being around my family and having the ability to be chased around the place by own dogs. State of mind is the difference between pulling off an amazing track or an average one. Some days I just walk into the studio room and feel proud that I have come so far in developing my studio.
Favourite food, drink, movie etc?
Moms paroteh are the best but only one as it takes a bodybuilder to carry one from the kitchen. Love my desi food. This month I'm on a Aloo Bengan and Gobi flex. Saag Paneer/ Chicken is awesome too. Love home cooked proper food not £100 a plate flashiness. Lol. Something sweet to eat is nice too, Nando's Carrot Cake is killer. One piece of Besan is perfect. Drink has to be Brandy, Jagermeister or Ouzo. My grandfather was known as Mr. Martell as he was into his Brandy too. Movies- Not any scary gory stuff, something proper hilarious or something serious. Action just bores me as I switch off with too many bullets flying around and cars exploding. Love old hindi horror movies as the monsters crack me up. Old Christopher Lee movies such as the original Wicker Man etc. The Big B- Don, Shaan, Namak Halaal, Sholay, Lawaaris. Anything with Akshay Kumar in it as he is just an amazing actor. Govinda is funny too. New independent hindi art films which touch on serious issues catch my attention (you know, the ones without lame songs and women changing their clothes running around trees every five minutes). I love English films as the acting is just proper and authentic. Love the whole feel of them. Eg; This is England. Chad Vader and Bhajana Amli Sappan Wala is funny too on YouTube. The list wouldn't be complete without Scarface, Carlitos Way, The Godfather, The Shawshank Redemption, Heat, The Lost Boys, Get Carter, Harry Brown, Pulp Fiction...I can go on for ages.